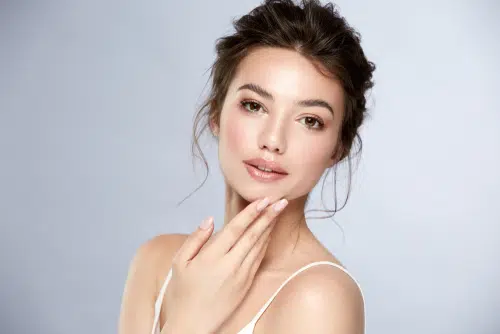 Staying at the forefront of cosmetic innovation has been an important aspect of our practice since its establishment many years ago. Dr. Sobel takes great care in selecting treatments that can achieve optimal results with less downtime and fewer risks. We are proud to offer patients a great new way to peel away old layers of damaged skin in our Tetra CoolPeel treatment. Here, we discuss what you need to know to make an informed decision about whether this peel may be ideal for you.
What is CoolPeel?
CoolPeel is a modern CO2 resurfacing treatment that targets only the superficial layer of tissue. It is different from traditional CO2 laser treatment in that it is not fully ablative. CoolPeel is a fractional laser treatment that delivers powerful results in only a fraction of the downtime as older resurfacing treatments. The Tetra laser platform works by delivering high energy in ultra-short pulses. Laser light is also fractionated, broken up into very small points of contact with the skin. This minimizes the buildup of heat in the outer layers of tissue, which preserves surrounding skin and reduces risks of extreme peeling and redness.
Benefits of CoolPeel CO2 Laser Treatment
Smooths fine lines

Minimizes sun damage

Reduces enlarged pores

Improves skin texture
Recovery After CoolPeel Laser
The CoolPeel treatment takes less than 20 minutes. No anesthetic is necessary due to the conservative, controlled delivery of laser energy. After a session, patients can expect some redness that looks similar to a sunburn. This can last a day or two but should not be distracting. It's possible to resume most normal activities, taking care to avoid direct sun exposure. It is necessary to apply an approved moisturizer as needed to prevent the skin from becoming overly dry as it heals.
CoolPeel Results
The reason doctors are so excited about CoolPeel is that, while ablative, it is not nearly as aggressive as traditional CO2 laser resurfacing. Nonetheless, even with gentler action on the skin, the CoolPeel delivers outstanding results. Patients can enjoy noticeable improvements in their skin after their very first session. That said, a series of three sessions spaced weeks apart is usually recommended for prolonged tissue remodeling. Once the skin has reached its ideal state, results of laser resurfacing can be maintained with an annual touch-up and, of course, good daily skin care.
Now that the weather is cooling down, it's a great time to schedule a CoolPeel and reveal smoother, softer, younger-looking skin. Contact our NYC med spa at 212.288.0060 to schedule your appointment.