If you're searching for Botox®, NYC has some of the best professionals you can find. Dr. Howard Sobel, founder of Sobel Skin and a trailblazer in the world of dermatology and injectable treatments, is here to provide excellent services backed by a lifetime of experience.
What is Botox®?
Botox® is a brand name for the chemical onabotulinumtoxinA, a strain of the bacterium Clostridium botulinum. Originally, onabotulinumtoxinA was used therapeutically to reduce the symptoms of strabismus and blepharospasm. FDA-approved Botox® contains a small amount of purified neurotoxin to reduce common signs of aging safely and consistently.
Today, Botox® fillers are among the most well-known injectable wrinkle-reducers available in New York City. Clinically, the drug is described as a neuromodulator, indicating how it corrects specific signs of aging. It works by temporarily blocking nerve signals to overactive facial muscles, preventing them from contracting and creating lines. When the muscles stay smooth, the skin above does as well.
Using a micro-sized needle, Botox® is injected into specific muscles of the face and neck to relax them and lessen the appearance of wrinkles that result from our daily expressions. This includes:
Crow's feet
Lines between the eyes
Horizontal forehead lines
Drooping corners of the mouth
Lines around the upper and lower lips
Bands on the neck
It is important to note that Botox® only works effectively when administered by an experienced professional who knows how to get the best results.
Why Choose Dr. Sobel?
Dr. Howard Sobel, M.D., is one of the best-credentialed doctors and dermatologists in his field, having helped pioneer many skincare and beauty treatments himself. Part of the early stages of the medspa/medi-spa evolution in the United States, Dr. Sobel has helped marry the formerly separate fields of dermatology and cosmetic surgery.
After earning his B.A. from SUNY at Binghamton, Dr. Sobel attended the Albert Einstein College of Medicine in New York. He then completed his residency at Emory University School of Medicine in Atlanta, Georgia, focusing on Dermatology and Dermatologic Surgery, then pioneering procedures in liposuction, laser treatments, and various injectables. Today, he routinely advises other doctors and has been a clinical attending physician at Lenox Hill Hospital for more than three decades. For 28 years, he was also a clinical attending dermatologist at the Dermatology and Dermatologic Cosmetic Surgery department at Beth Israel Medical Center.
Today, Dr. Sobel is deeply involved in dermatology, cosmetic surgery, and aesthetic medicine. He offers expert opinions to national and local media, including notable outlets such as:
The Today Show
CNN, CNBC, ABC, and CBS
Anderson Cooper 360
Vogue, Elle, W, Glamour, New Beauty, Marie Claire, and Allure
The New York Times, London Times, New York Post, Wall Street Journal, and The New York Daily News
He is also the go-to expert for Bethenny Frankel of the Real Housewives of New York City, Ramona Singer, and Tinsley Mortimer, performing regular cosmetic and medical services for them all. He has appeared on The Real Housewives of New York City himself as an expert in the field of beauty and skincare.
Even though Botox® is not a surgical procedure, it is very important to choose a highly experienced and qualified physician when deciding to undergo treatments. Dr. Sobel is a top dermatologist and is intimately familiar with cosmetic treatments. He has successfully treated hundreds of patients at our Manhattan office for various disorders.
Before and After Botox® Results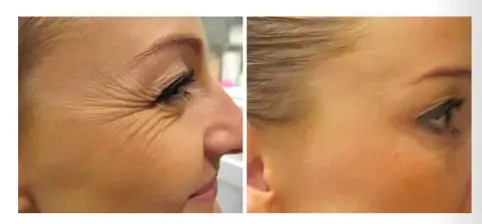 View more before and after photos »
Dr. Howard Sobel is excellent with Botox® and fillers. I would not go anywhere else. I have referred my sister to him and she had a similarly good experience. He is extremely capable, very courteous and a pleasure to see. There are occasions when you will have to wait for him but he is well worth it. – N.D.
Click Here To View More Testimonials
What Can Botox® Help With?
In NYC, Sobel Skin, can help with a range of issues, from purely cosmetic to medical. If you're here to feel better about how you look and regain your confidence, that's a legitimate reason to seek the best Botox® New York offers. If you have more serious medical conditions, we can help there as well. And of course, many people come to us for both.
Today, Botox® is a common treatment for numerous cosmetic concerns from regular muscle use. Some of the specific treatments for which our clients come to us are:
Horizontal forehead lines
Brow lift
Crow's feet
Horizontal bunny lines at the bridge of the nose
Smoker's lines around the mouth
Marionette lines from the corners of the mouth to the chin
Chin "dents"/cleft chin
Vertical necklines
Hyperhidrosis
More specifically, our treatments include:
Wrinkles
With Botox®, under-eye wrinkles are a cinch to treat. These lines often come about due to daily expressions, and Sobel Skin in NYC can help smooth the muscles that cause them with only a simple treatment or two. Once you get rid of those classic bags and wrinkles, you will appear years younger. Even if you don't sleep well, you'll look like you did!
TMJ
One of the most common Botox® treatments people get is for TMJ, a painful condition that affects the jaw.
TMJ is when the lower jaw moves with the help of the temporomandibular joints. There is one on each side of the face, connecting the mandible (the lower jawbone) to the skull. These joints move up and down and side to side to support talking, swallowing, chewing, and other motions. The TMJs rely on a network of ligaments, tendons, and muscles to sustain the proper movement.
For example, the masseter muscle is a facial muscle that attaches to the joint on each side of the back of the mouth. Overexertion or overuse of the joint or its supporting structures can lead to chronic tension and inflammation that result in painful symptoms. Chronic tension in the masseter muscle is uncomfortable and may enlarge the muscle, giving a square shape to the jawline.
Botox® decreases muscle tension by blocking nerve signals. The jaw remains functional for chewing and all other normal activities, but the intensity of muscle contractions decreases. This also reduces the square facial appearance that many people wish to avoid.
Neck Spasms
The main way Botox® helps prevent pain and spasms is by blocking nerve signals. This prevents your body from telling the neck muscles to contract and expand rapidly, which means you can avoid those nasty, painful spasms.
Migraines
Often, the cause of these debilitating headaches lies in tightness and tension in the head and neck muscles. As Botox® loosens the grip these muscles have on the body, they can help prevent migraines entirely or lessen their effects. Depending on your unique situation, Botox® may be injected into multiple locations, from the forehead to the face, the temples to the neck, and the back of the head.
Excessive Sweating
Nerve signals are also responsible for sweating, but Dr. Sobel can block those signals and help reduce overactive sweat glands in the body. Initially, the nerves regenerate, and repeated treatments are needed. However, over time they will become less active, and you'll require fewer treatments for the rest of your life.
Lazy Eye
For a squint or a lazy eye, Botox® can help to temporarily weaken muscles surrounding the eye, allowing it to straighten. It is an extremely safe way to change your appearance and to help improve your vision.
Botox® FAQs
Many people have a range of Botox® questions when they first consider the treatment. If you're on the fence, read through the following FAQs to learn more, then schedule a consultation to see if it's the right fit.
How soon does it begin working?
Don't expect to see Botox® results immediately. Usually, it takes a few days to start seeing the effects. However, once it kicks in, you'll see significant results. So, if you have an event coming up and want to look your best, keep this timeline in mind when scheduling your appointment.
How long does Botox® last?
The results can be seen within four to five days and last three to six months with no downtime or surgery and little to no discomfort.
Are Botox® injections painful?
Many people worry that Botox® will hurt. We're setting the record straight, letting you know you don't need to worry about feeling pain. Botox® injections take only a few minutes, using tiny needles. Most clients report that it is less painful than a bikini wax. You'll experience a string of slight prickles at most, and then you'll be done.
Will I look like I've "had work done"?
When seeking Botox®, NYC has lots of options, and not all are created equal. A highly experienced injector like Dr. Sobel will leave his patients with a natural, relaxed look. Someone with less experience and technique may leave a patient with a frozen or a "perpetually surprised" appearance.
We use tiny needles, so there is virtually no bruising. The treatment merely relaxes lines in the face, making you look more like you and not like someone with decades of plastic surgery. That means no one will know a procedure has been performed, and you can resume normal activity in an hour. Again, though, that's only if you use the best injectors, so be sure to pick someone with experience!
How old do I need to be?
There is no age limit or age minimum to get Botox® treatments. The main qualifier is not your years on the planet but your health and cosmetic or wellness goals.
Are there risks to Botox®?
There are no risks to a healthy person. Botox® should not be used when pregnant or breastfeeding. It should also not be used if you have an autoimmune disease.
What are the benefits of Botox®?
Our quick and effective treatment can reduce facial lines with no downtime. It can smooth out crow's feet, frown lines between the eyebrows, the horizontal lines across the forehead, and the lines on the neck. It is also beneficial in treating excessive sweating and TMJ.
Who are the ideal candidates for Botox®?
The right Botox® candidate wants to enhance their appearance with simple treatments that last. People with excessive sweating, jaw pain, migraines, or a lazy eye can benefit from Botox® NYC procedures, even if there is no cosmetic motivation. Healthy people without medical conditions are free to get treatments, so schedule a consultation to learn more today.
How much does Botox® cost in NYC?
Dr. Sobel prices Botox® by the area of the face or body. Charges typically range from $500 to $1,500, though the price point may vary. Botox® in your forehead could cost around $600 or more, while crow's feet may sit on the lower end of the spectrum. However, if you combine services, you'll likely save money.
For instance, consider our Botox® specials. Currently, you can get four treatments for $1,000 less than if you didn't combine them. Because why shouldn't you be able to lift and tone skin all over your body, decrease discomfort, and look your best – all for reasonable prices? Men, women, and people of any gender can benefit from these savings and maximize their comfort in their bodies and appearance – so visit our location today.
Dr. Sobel's Convenient Upper East Side Location
Looking for the best Botox® NYC has to offer? Good news: The best Botox® injections can be found right here on the Upper East Side in Manhattan. When it comes to Botox®, Manhattan is a frontrunner because it's where Dr. Sobel has lived and worked for decades.
Sobel Skin is located at Park Ave and E 82nd Street, close to Central Park and the Metropolitan Museum of Art. We are also near the Yorkville and Lenox Hill sections, making our location quite accessible to many of our clients. If you need Botox® Upper East Side treatments, get in touch today.
Reach Out for a Consultation with Dr. Sobel Today
If you are interested in Botox®, New York City is the place to go. Schedule an appointment with Dr. Howard Sobel today to learn more about the treatment and put yourself on a path toward looking and feeling the way you want.
To schedule, call our office at 212.288.0060 or fill out a form online for your initial Botox® treatment consultation today!