Alma TED Treatment NYC
Are you suffering from hair loss? It's a common problem that up to 80 million Americans face. While it's normal to shed up to 100 hairs per day, when it goes beyond that, it can start to affect your quality of life. Genetics, stress, illnesses, and even childbirth or birth control cessation can cause it.
Fortunately, there are new and noteworthy treatments — like the Alma TED treatment, a non-invasive hair restoration option that can help you regain your confidence. We'll explore how it works below.
Why Choose Dr. Sobel for Alma TED treatments?
If you're looking for Alma TED treatment in NYC, make Dr. Howard Sobel your top choice. Dr. Sobel is a leading cosmetic dermatologist in Manhattan NYC, known for pioneering the latest advances in dermatology and cosmetic surgery. In fact, Dr. Sobel was among the first to get involved in the early stages of the medical spa revolution. These days, he has more than 30 years of experience — and a long list of achievements and accomplishments to match.
When you schedule a consultation with Dr. Sobel, you'll enjoy working with someone who is caring and understanding and wants the best outcome for you. Rely on him to assess your needs and offer the best options for NYC hair restoration or other treatments and procedures to help you look and feel your best.
What is the Alma TED Treatment?
Even though some think this is a laser treatment, there is no such thing as an Alma TED laser. Alma TED is an ultrasound-based treatment — and that's what makes it completely non-invasive. This treatment uses the power of sound waves and air pressure to ensure that Alma's proprietary hair growth formula penetrates deeper into the scalp.
Using the Power of Sound Waves
The Alma TED system is unique in that it relies on ultrasound technology to work. This device produces low-frequency ultrasonic sound waves plus air pressure, which drives topical hair growth formulas deep into your skin where they can do their best work.
How does Alma TED help you grow a fuller head of hair? It helps to understand how the skin is structured — with the stratum corneum, the outer layer of your skin and scalp, lipids, and dead skin cells. That's why Alma TED is so effective.
When you apply topical hair growth treatments directly to the skin, the stratum corneum acts as a barrier to keep beneficial ingredients from working at maximum efficacy. The Alma TED treatment breaks apart the stratum corneum, temporarily allowing hair growth treatments to penetrate that barrier. That is combined with the pressure created by sound waves, which help to push topical treatments through the stratum corneum and into lower skin layers where active ingredients can reach hair follicles to achieve greater results.
The Alma TED treatment is about more than delivering hair growth treatments deeper into the skin. In addition to the above benefits, this treatment also helps increase blood flow throughout the scalp — which is crucial in helping hair grow fuller and healthier.
How Many Treatments Do You Need?
We recommend at least three treatments, each performed about a month apart – this offers the best results. However, most patients will begin to see improvements in just a month.
Your exact treatment plan is something that you will discuss during your initial consultation. While three treatments are the average, some patients may need additional treatment in rarer cases.
What Happens During Treatment?
Even though the process sounds complex, it isn't. Before your first treatment, you'll need a consultation to develop a custom treatment plan. Each treatment is relatively simple and takes about 20 to 30 minutes, with no downtime.
Before each treatment, you'll need to wash your hair and ensure it's clean and dry for your appointment time. Then, when the treatment starts, you'll feel the warmth, and you may sense vibration or hear a ringing sound. It's completely painless — no needles required.
Benefits of Alma TED Treatments
Alma TED may be right for you if you're looking for a hair growth treatment that gets results and does it comfortably. Not only is it a painless treatment, but it's also cruelty-free, which means that it has not been tested on animals. Products used with this treatment are also vegan.
With that, this treatment is designed to be completely painless. No needles will be used, no incisions are required, and you will not need anesthesia. Each treatment happens swiftly, and you'll likely see results quickly.
Alma TED is a safe, ethical, and non-invasive way to help you restore a thick, full head of hair.
Who is the TED Treatment For?
The Alma TED treatment could be the answer for many who suffer from thinning hair. It's made for people with thinning hair, excessive shedding, or hair loss caused by various factors.
Who is the Ideal Alma Ted Patient?
The ideal patient is not fully bald but is in the early stages of hair loss. You should also be in relatively good health; recent steroid treatments are contraindicated.
Suppose this sounds like you; schedule a consultation to discuss your options. Dr. Sobel can assess your needs and help you decide the best treatment path to help you regain a full, healthy head of hair.
What Does Post-Treatment Recovery Entail?
Because this is a painless, non-invasive treatment, your aftercare for each treatment will be minimal. No need to schedule time away from work or make any special preparations; you need to avoid washing your hair for 24 hours — and do not have your hair colored the next day, either. Besides that, you won't have to worry about special care.
Get Started With Alma TED Treatment NYC
Ready to get started on your Alma TED treatment plan? Take the next step and schedule a consultation with Dr. Howard Sobel NYC.
---
PRP Hair Restoration NYC
Hair loss does not carry the consequences it once did. Several celebrity men have made the hairless head rather enviable. However, acceptance of a bald head is not something shared by all. In some cases, PRP hair restoration is the desired approach. The good news about hair restoration for men, and also for women, is that innovation has made it easier for more patients to reach their goals. We are proud to perform hair restoration services that include platelet-rich plasma to help our patients enjoy more hair, fuller hair, and thicker hair.
Contact Us Today For A Consultation
What is PRP hair restoration treatment?
PRP hair regrowth treatment is an in-office procedure that is offered at Sobel Skin's luxurious NYC facility. PRP stands for "platelet-rich plasma", which refers to a concentrated solution derived from your body's own blood. This concentrated solution contains a high-volume of platelets, which are a key element to your body's natural healing and regeneration system. During treatment this solution is injected into the scalp, releasing platelets into the affected areas. The platelets then work to stimulate your cells to regenerate, facilitating hair growth. Being a derivative of one's own blood, platelet-rich plasma is non-allergic and will not cause adverse reactions. PRP treatment is a minimally-invasive treatment that is safe for both men and women.
Healthy hair follicles grow healthy hair. It's that simple. The function of hair follicles is supported by the circulation of blood through them. The introduction of platelets into follicles that are growing thin, fine hair, or which have stopped growing hair, may prompt new activity through the natural wound-healing mechanism that occurs.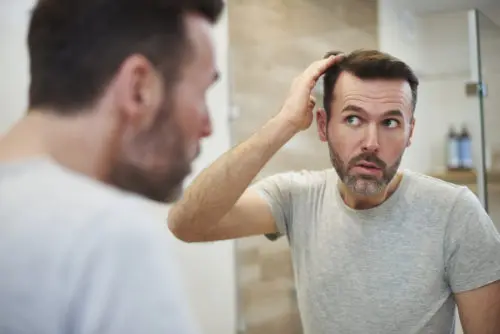 ---
What are the benefits of PRP for hair loss?
When used for hair loss treatment, PRP therapy can help:
Thicken and enhance existing hair follicles
Increase blood supply to the follicle
Trigger and maintain the growth phase
Decrease hair loss
Control hair growth cycle
Who is a good candidate for PRP hair restoration?
PRP injections are appropriate for men and women with thinning hair, as well as for individuals with alopecia, depending on the extent of hair loss. Patients taking blood thinners may not be good candidates for this treatment. To learn more about the potential for hair growth in your case, schedule a consultation with Dr. Sobel.
---
See What Our Patients Have to Say…
I have been going to his office for years and always emerge refreshed and looking and feeling years younger. His staff is amazing. I recommend frequently to my friends and family.
– Melissa F.
Dr Sobel was one of the nicest, friendliest and professional doctors I have ever come across. He is a credit to the profession. Can't recommend him highly enough!
– Jennifer D.
How does PRP therapy work?
There are a variety of thinning hair remedies, each working in unique ways to help promote hair regrowth. PRP therapy works on the basis of utilizing restoring growth factors within the patient's own blood after injecting them back into the scalp tissue. When introduced into hair follicles, in particular, the increase in cellular activity may usher in a phase of active hair growth, thus promoting healthier, thicker hair. Most patients require only 4 treatments, spaced 4 weeks apart with occasional touch-ups once a year. The entire procedure usually takes 30 minutes or less.
The procedure begins with a simple blood draw in order to obtain the specialized cells needed for hair growth. The small amount of blood that is drawn is spun in a high-speed instrument to extract plasma from other blood cells. Look no further than Dr. Sobel, an NY Magazine best dermatologist in Manhattan, to regain your hair.
If you're ready to regain lost hair follicles in as little as four treatments, contact us to set up an appointment today. We also offer EmSculpt Botox and Liposuction treatments. A visit to Sobel Skin in NYC will have you looking and feeling your best.
Before and After PRP hair restoration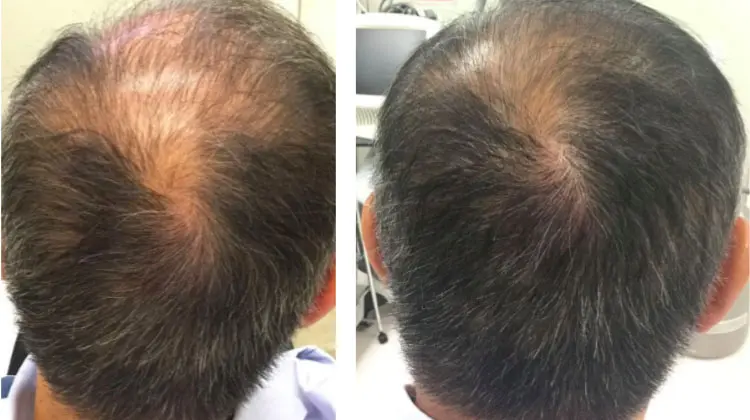 View More Before and After Photos!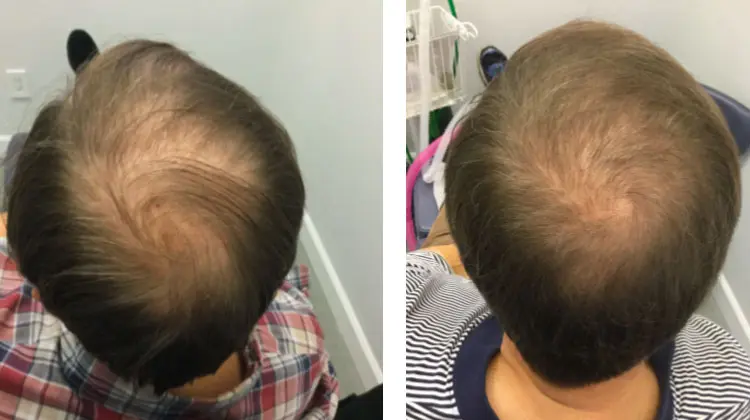 When will I begin to see results from PRP for hair loss therapy?
The results of PRP treatment for thinning hair vary with each patient. PRP treatment is not a cure for hair loss, but it has been shown to delay the loss of hair and restore hair growth and density. Patients may be able to begin noticing hair growth improvement after one treatment, but generally, it is recommended to complete a series of treatments to achieve maximum results. Your treatment plan, including the recommended total number of treatments, will be discussed with you during your initial consultation.
PRP Injections Recovery Time
There are no incisions made and no anesthesia administered during the procedure, so no downtime is needed for recovery. Patients may be asked to postpone strenuous exercise (anything other than walking or leisurely bike-riding) for a day or two after treatment. In terms of response time, every person is different. Improvement may become evident after a few months. Many patients schedule a series of PRP treatments in our NYC office to obtain the greatest benefit.
What are the side effects of PRP for hair loss?
Mild to moderate soreness may be noticeable for a few days after PRP treatment, and the scalp and/or forehead may appear slightly swollen. Redness or pinpoint bleeding may occur at injection sites.
Schedule a Consultation with Dr. Sobel Today!
If you are seeking PRP treatment for hair loss in NYC, our staff at Sobel Skin can help! Call 212.288.0060 or fill out a form online to book an initial treatment consultation with Dr. Sobel.