Hair loss does not carry the consequences it once did. Several celebrity men have made the hairless head rather enviable. However, acceptance of a bald head is not something shared by all. In some cases, PRP hair restoration is the desired approach. The good news about hair restoration for men, and also for women, is that innovation has made it easier for more patients to reach their goals. We are proud to perform hair restoration services that include platelet-rich plasma to help our patients enjoy more hair, fuller hair, and thicker hair.
Contact Us Today For A Consultation
What is PRP hair restoration treatment?
PRP hair regrowth treatment is an in-office procedure that is offered at Sobel Skin's luxurious NYC facility. PRP stands for "platelet-rich plasma", which refers to a concentrated solution derived from your body's own blood. This concentrated solution contains a high-volume of platelets, which are a key element to your body's natural healing and regeneration system. During treatment this solution is injected into the scalp, releasing platelets into the affected areas. The platelets then work to stimulate your cells to regenerate, facilitating hair growth. Being a derivative of one's own blood, platelet-rich plasma is non-allergic and will not cause adverse reactions. PRP treatment is a minimally-invasive treatment that is safe for both men and women.
Healthy hair follicles grow healthy hair. It's that simple. The function of hair follicles is supported by the circulation of blood through them. The introduction of platelets into follicles that are growing thin, fine hair, or which have stopped growing hair, may prompt new activity through the natural wound-healing mechanism that occurs.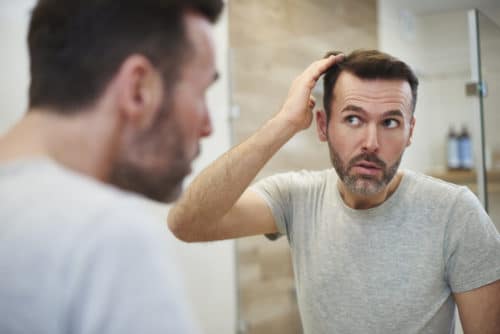 ---
What are the benefits of PRP for hair loss?
When used for hair loss treatment, PRP therapy can help:
Thicken and enhance existing hair follicles
Increase blood supply to the follicle
Trigger and maintain the growth phase
Decrease hair loss
Control hair growth cycle
Who is a good candidate for PRP hair restoration?
PRP injections are appropriate for men and women with thinning hair, as well as for individuals with alopecia, depending on the extent of hair loss. Patients taking blood thinners may not be good candidates for this treatment. To learn more about the potential for hair growth in your case, schedule a consultation with Dr. Sobel.
---
See What Our Patients Have to Say…
I have been going to his office for years and always emerge refreshed and looking and feeling years younger. His staff is amazing. I recommend frequently to my friends and family.
– Melissa F.
Dr Sobel was one of the nicest, friendliest and professional doctors I have ever come across. He is a credit to the profession. Can't recommend him highly enough!
– Jennifer D.
How does PRP therapy work?
There are a variety of thinning hair remedies, each working in unique ways to help promote hair regrowth. PRP therapy works on the basis of utilizing restoring growth factors within the patient's own blood after injecting them back into the scalp tissue. When introduced into hair follicles, in particular, the increase in cellular activity may usher in a phase of active hair growth, thus promoting healthier, thicker hair. Most patients require only 4 treatments, spaced 4 weeks apart with occasional touch-ups once a year. The entire procedure usually takes 30 minutes or less.
The procedure begins with a simple blood draw in order to obtain the specialized cells needed for hair growth. The small amount of blood that is drawn is spun in a high-speed instrument to extract plasma from other blood cells. Look no further than Dr. Sobel, an NY Magazine best dermatologist in Manhattan, to regain your hair.
If you're ready to regain lost hair follicles in as little as four treatments, contact us to set up an appointment today. We also offer EmSculpt Botox and Liposuction treatments. A visit to Sobel Skin in NYC will have you looking and feeling your best.
Before and After PRP hair restoration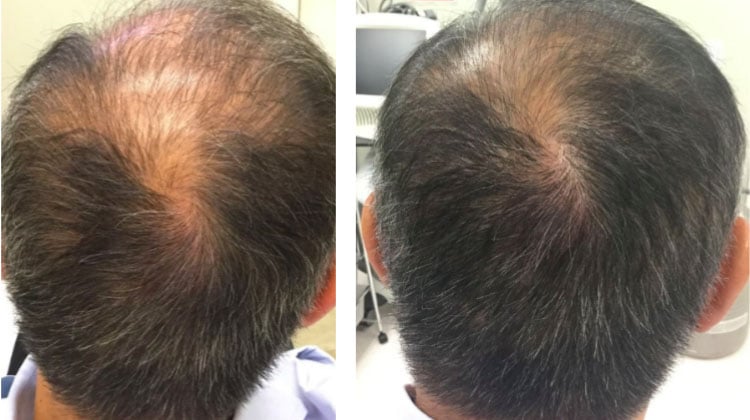 View More Before and After Photos!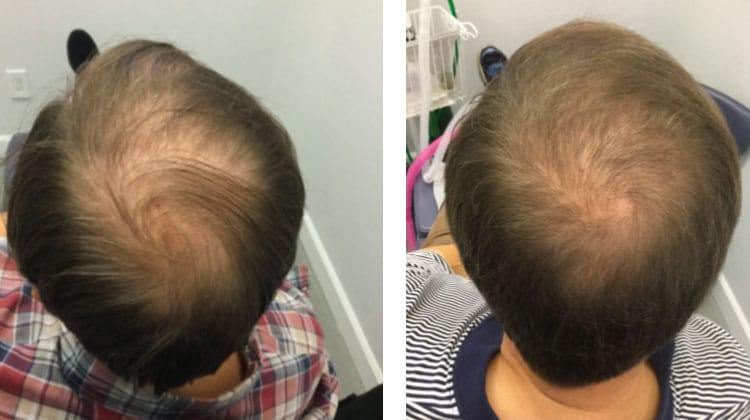 When will I begin to see results from PRP for hair loss therapy?
The results of PRP treatment for thinning hair vary with each patient. PRP treatment is not a cure for hair loss, but it has been shown to delay the loss of hair and restore hair growth and density. Patients may be able to begin noticing hair growth improvement after one treatment, but generally, it is recommended to complete a series of treatments to achieve maximum results. Your treatment plan, including the recommended total number of treatments, will be discussed with you during your initial consultation.
PRP Injections Recovery Time
There are no incisions made and no anesthesia administered during the procedure, so no downtime is needed for recovery. Patients may be asked to postpone strenuous exercise (anything other than walking or leisurely bike-riding) for a day or two after treatment. In terms of response time, every person is different. Improvement may become evident after a few months. Many patients schedule a series of PRP treatments in our NYC office to obtain the greatest benefit.
What are the side effects of PRP for hair loss?
Mild to moderate soreness may be noticeable for a few days after PRP treatment, and the scalp and/or forehead may appear slightly swollen. Redness or pinpoint bleeding may occur at injection sites.
Schedule a Consultation with Dr. Sobel Today!
If you are seeking PRP treatment for hair loss in NYC, our staff at Sobel Skin can help! Call 212.288.0060 or fill out a form online to book an initial treatment consultation with Dr. Sobel.