Fat can be as stubborn. Diet and exercise are important, but sometimes alone they don't do enough to get you the results you want. In certain areas, no matter what we do the fat just won't go away. Dr. Sobel offers SculpSure, the world's first FDA-approved body contouring laser treatment that eliminates 24 percent of the fat in the treatment area in just 25 minutes, and it does it non-invasively with no downtime!
What is SculpSure laser?
Sobel Skin, located in New York City, is pleased to offer SculpSure, a non-surgical body contouring and fat reduction laser treatment designed to reduce stubborn fat and help you achieve a slim, natural look without surgery or downtime.
Using heat, the SculpSure lasers raise the temperature of fat cells and destroy their structural integrity. In the months following the treatment, these damaged fat cells are processed and eliminated by the body's lymphatic system. Destroyed fat cells do not regenerate, so fat loss is permanent.
What areas can SculpSure treat?
SculpSure is FDA-cleared to help remove stubborn fat in the belly, love handles, back, thighs, and submental fat, also known as double-chin.
What are the advantages of fat removal with SculpSure?
SculpSure has numerous advantages, including:
Can treat multiple areas simultaneously and hands-free
Can treat multiple body shapes and sizes
Can treat areas of pinchable and non-pinchable fat
Works on all skin types
Is clinically proven and FDA-approved
Has over 90% patient satisfaction
Is comfortable and well-tolerated
Before & After SculpSure treatment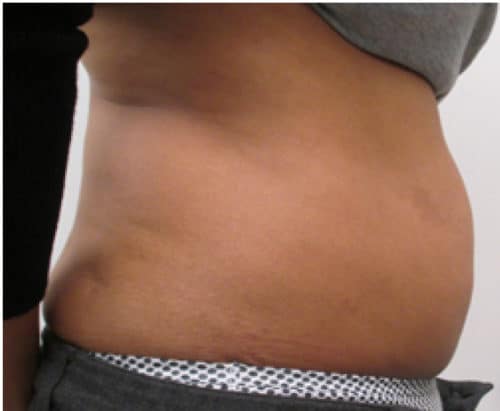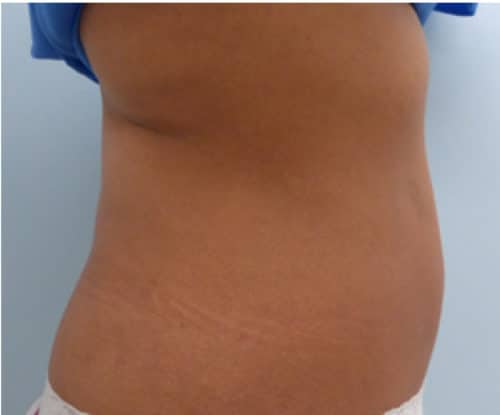 View more Before & After photos
How does SculpSure work?
SculpSure is ideal for people with trouble spots, particularly those that seem resistant to diet and exercise. The secret is the 1060nm wavelength laser that selectively targets fat cells below the dermis, the skin's second layer. SculpSure targets adipose tissue (fat), elevating sub-dermal temperature between 42-47 degrees Celsius within 4 minutes. Continuous contact cooling keeps you and your skin comfortable throughout the treatment.
The system can target multiple areas during a single, 25-minute procedure. Each 25-minute procedure can destroy up to 24% of treated fat cells without surgery. Four flat, non-suction applicators and contouring frames can be customized into a variety of configurations to target unwanted fat cells. The body then eliminates the dead cells over the course of the next 12 weeks. SculpSure results can be seen in as little as 6 weeks, with optimal outcomes in 12 weeks. With nearly a quarter of the fat permanently removed from the treatment area, the result is a markedly slimmer contour.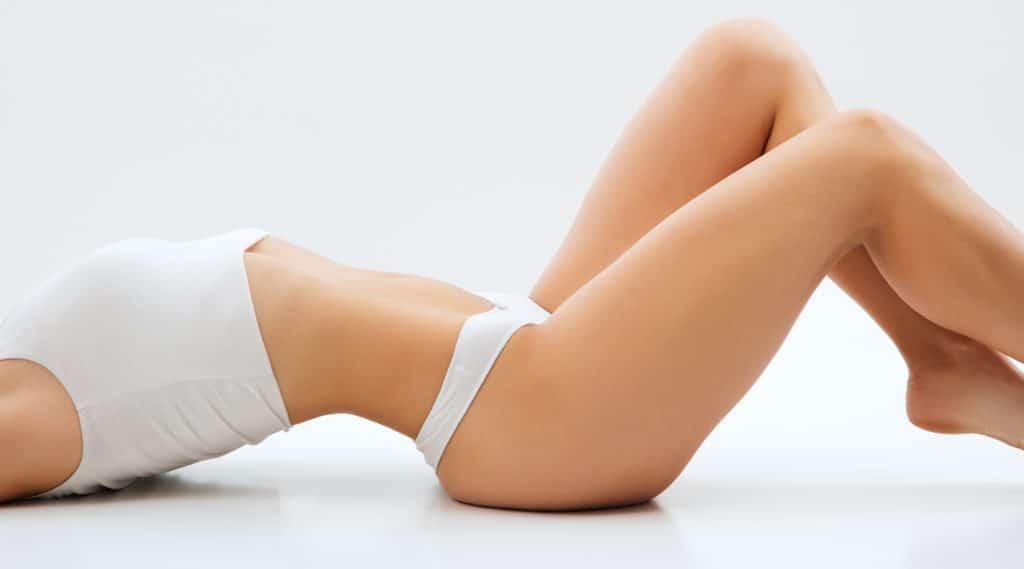 The SculpSure procedure
The treatment areas are first mapped on the patient's desired treatment area. The SculpSure system has four panels, each measuring 4 x 6 centimeters, which serve to hold the laser applicators in place. These panels can be configured into a single line, split into two on each side, or stacked depending on where you want SculpSure to target. Generally, two applicator panels can treat one love handle, so both sides can be treated with two panels at the same time.
When the treatment starts you'll first feel a cooling sensation that keeps your skin comfortable. Within a few minutes, you'll feel intervals of deep warmth followed by cooling. This is the laser energy being delivered into the fat layer. The entire session takes just 25 minutes during which you can read or check your phone. Once the session is complete, there is no downtime and you can get back to work or other activities immediately.
Is SculpSure safe?
SculpSure delivers cooling onto the surface of the skin while the heating energy is delivered into the fat layer. This ensures the patient is completely comfortable. There is no damage to the surface skin at all, and there is no downtime.
Is the fat reduction permanent?
The fat cells destroyed in the treatment are gone permanently and will not regenerate.
How many SculpSure treatments are needed?
Most patients see results in one treatment. Some patients wish to have additional treatments based on their desired results and treatment area. After treatment, it takes about 12 weeks for the body to shed the dead fat cells and for the skin to slim down to the new contour.
How does SculpSure compare to CoolSculpting?
When it comes to non-invasive body contouring, both CoolSculpting and SculpSure are FDA approved. CoolSculpting involves some pretty strong suction onto the treatment paddles and very cold sensation for the first seven minutes or so. Some patients have bruising. Plus, patients need the area massaged after the session due to the cold. SculpSure is more comfortable and faster, sessions last just 25 minutes versus 60 minutes for CoolSculpting. Otherwise, both methods kill fat cells, one with cold, one with heat.
How many SculpSure treatment sessions will I need?
Every patient is different, so this will best be determined during your consultation and treatment with Dr. Sobel. Most people see the best results when they receive two treatments one month apart.
Schedule a Consultation
If you are interested in SculpSure laser fat removal in NYC, our staff at Sobel Skin offers personalized treatments to help you be your best, most refreshed self. Call 212.288.0060 or fill out a form online to book an initial treatment consultation with Dr. Sobel.