What is Vivace Treatment?
A Vivace laser is a combination of microneedling treatment, radiofrequency (RF), and LED light therapy. Vivace laser treatment encompasses the next wave of skin rejuvenation therapy. Vivace laser treatment diminishes fine lines, wrinkles, and other blemishes, and provides a more youthful appearance by firming and lifting sagging skin.
RF technology speeds up collagen production which is why results are seen so quickly. Along with RF treatment, LED light therapy diminishes redness and accelerates healing time. The microneedles are gold-tipped, allowing the skin to be susceptible to the nutrient serums feeding the skin. Treatments are said to be virtually painless and because of accelerated results, patients should feel comfortable to be in public the next day, unlike other similar dermal treatments.

How Long is Vivace Treatment?
Vivace laser treatment takes about two hours from numbing the area to cool the area after the procedure.
Vivace Treatment Results
After one treatment, changes are visible and noticeable, and after three treatments, patients can expect desired results. For best results, patients are advised not to wear makeup after the procedure. Patients should wait at least a day before applying any sort of cosmetic product. Patients should also be careful about being in the sun for at least 24 hours and abstain from strenuous activities. Because of the technologically advanced nature of Vivace skin rejuvenation treatment, results should be almost immediate. Many patients feel comfortable going out the same night of treatment, already looking and feeling good with their rejuvenated skin.
Before & After Vivace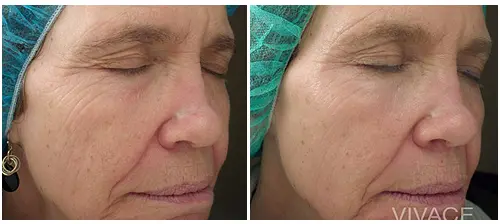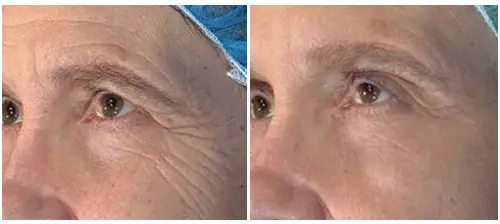 View more before and after photos here.
Skincare After Vivace Treatment
Patients of Vivace treatment should not apply any form of product, such as make-up, sunscreen, and/or moisturizer, for at least 24 hours after the procedure. Patients should also keep the treated areas free from clothing, hats, scarves, or any other fabric or material. If clothing must be worn on the area, then the cotton fabric that hasn't been affected by fabric softeners or dryer sheets is best.
On the first through the third mornings and evenings after treatment, the affected areas should be cleansed with a gentle cleanser for sensitive skin, hydrated with hyaluronic acid serum. The skin should be protected by a product with an SPF, including sunscreen or a sun-protectant moisturizer. Patients should avoid saunas, hot tubs, or other forms of sweat-inducing activities. Patients are also recommended to apply aquaphor to any scabbing. Patients should refrain from any picking, peeling, rubbing, or scrubbing that would irritate skin and potentially cause scarring. The skin should be left clean of cosmetic products, but mineral make-up may be worn if necessary.
Is Vivace Laser Safe for All Skin Types?
Vivace laser treatment is said to be safe for any skin type, including darker skin tones. Unlike other dermal treatments, Vivace laser excludes the use of heat and harsh chemicals, which both run the risk of changing pigmentation and relies on a more natural approach to skin resurfacing.
Vivace Microneedling Results
Results of microneedling are permanent and effective in removing visible manifestations of skin damage. However, microneedling does not remove underlying conditions of skin damage, so with aging, the skin damage will most likely once again become apparent. In order to lengthen the results of microneedling, patients are advised to practice good skin care. For maximum results, more than one treatment is recommended.
What Should I Expect After Microneedling Treatment with RF Technology?
Patients will most likely experience their skin peeling after the microneedling treatment. Microneedling causes many micro-injuries in the skin, causing the body to create a new unblemished layer of skin. Thus, the old damaged layer of skin peels away. The peeling is about as minor as a mild sunburn peel and only lasts a couple of days. Patients may also experience scabbing around the treated area, and this is also completely normal and expected.
What does the Vivace treatment feel like?
Most of our patients choose to numb with a topical numbing cream prior. Many patients report that they don't feel anything during the treatment. Vivace is very comfortable and patients who prefer not to numb tolerate very well and report feeling a light pressure with an occasional warm, sparking feeling.
How Effective is Vivace Microneedling?
Microneedling is a safe and effective procedure in treating minor scarring. Patients are advised to have multiple treatments for best results. Many people try using home-rollers instead, and while pain is much more minimal than microneedling, the results are not as evident. Within a couple of weeks after microneedling treatment, patients start seeing new, rejuvenated skin. New skin tissue is more even in tone and texture.
How often should Microneedling with RF Technology be done?
A minimum of three microneedling treatments is recommended for patients. Depending on the type of skin damage being treated, the recommended time between treatments vary. For collagen producing, patients should wait at least four to six weeks between treatments. For scar reduction, patients most likely need an average of three to six treatments.
Frequently asked questions
I have heard a lot of treatments in the past claim that they are skin tightening. What makes Vivace special and how do I know it is the right treatment for me?
Many patients ask what the right treatment is for tightening skin on the neck or skin on the lower face. Until we obtained the Vivace at Sobel Skin, we would tell patients that no treatment seems to be worth it and that it will only help slightly. Dr. Sobel decided on the Vivace Radiofrequency Microneedling system because of the advanced technology with proven results.
I have had microneedling in the past. It helped my skin a little, but how is the Vivace different from plain microneedling?
This is an excellent question that many patients ask. Think of Vivace as a combination treatment. It combines microneedling with radiofrequency and expands the benefits that either procedure could provide alone. The robotically controlled, gold-tipped needs are insulated and provide the radiofrequency energy when it reaches the dermis. You are able to get the epidermal or surface of the skin rejuvenation as well as the deeper dermal remodeling provided by the radiofrequency.
I have sensitive skin and mild rosacea. Many cosmetic treatments are too harsh for me. Would Vivace be appropriate to treat my skin?
Yes! One of the many wonderful things about Vivace is that it is appropriate for almost all patients. There are healing LEDs that are in the Vivace that are proven to help calm rosacea while stimulating collagen at the same time.
Schedule a Consultation
If you are interested in Vivace treatment in NYC, contact us at 212.288.0060 or by filling out a form online to book an initial treatment consultation with Dr. Sobel.