Fuller, Softer, Kissable Lips With Restylane® Kysse™
Restylane® Kysse™ is a new hyaluronic acid (HA) lip filler designed to enhance lip volume and minimize the appearance of fine lines above the mouth, leaving you with a natural look and feel. It has also been shown to improve lip texture and color.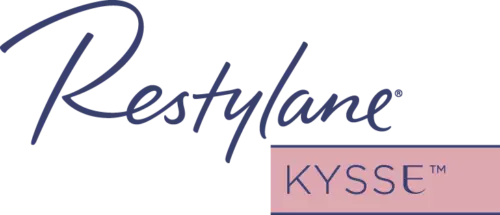 What Makes Restylane® Kysse™ Different?
Restylane® Kysse™ is the first HA lip filler approved by the FDA formulated with XpresHAn Technology™ for smooth, natural-looking results. With this XpresHAn Technology™, this filler is able to integrate into the skin seamlessly providing a natural expression so you never look overdone.
Candidates For Restylane® Kysse™ Injections
Adults over the age of 21 may be excellent candidates for Restylane® Kysse™. This treatment is especially beneficial for those who have experienced a loss in lip volume with age or the development of fine lines around the mouth. According to clinical trials, 86% of patients who received Restylane® Kysse™ were very satisfied with their results and stated they would get the treatment again in the future.
Benefits Of Choosing Restylane® Kysse™ Over Other Dermal Fillers
Restylane® Kysse™ was developed to deliver both structure and flexibility. This achieves consistent results, a natural look, and softness. Some lip fillers may create too much firmness, a characteristic that was not noticed during clinical trials of Restylane® Kysse™. This could relate to the use of XpresHAn Technology and the smaller particle size of hyaluronic acid in the product.
Before & After Lip Augmentation With Restylane® Kysse™

What Should I Expect At My Restylane® Kysse™ Treatment Session?
Since the formula for Restylane® Kysse™ is composed of hyaluronic acid, there is no pre-testing involved. Hyaluronic acid occurs naturally in the body, in the eyes, joints, and skin. The body will not reject this substance, so our initial consultation and evaluation of the skin are done to gain an understanding of the desired outcome and how much product is needed to achieve that.
Restylane® Kysse™ injections can be administered right after our consultation. Injections are administered with a tiny needle at designated target points to smooth lines and increase fullness.
How Long Does The Restylane® Kysse™ Session Take?
Including the consultation and skin evaluation, the average Restylane® Kysse™ appointment is completed in about half an hour.
How Many Restylane® Kysse™ Treatments Will I Need?
Just one treatment session should be necessary to achieve beautiful results that last up to one year. We are careful to lean toward the conservative use of lip fillers to avoid the unnatural appearance of "duck lips." Some patients may wish to have a touch-up to further enhance lip shape.
Does Restylane® Kysse™ Work Immediately?
Restylane® Kysse™ is a hyaluronic acid dermal filler. As soon as the product is injected beneath the skin, it begins to draw in water molecules to adhere to. Patients will notice an immediate improvement in lip shape and volume.

What Should I Avoid Doing After My Kysse™ Treatment?
After getting lip enhancement, patients are advised to keep sun exposure to a minimum. Exposure to heat and cold should also be avoided for a day or two. These factors could cause temporary swelling, redness, or itching at the injection site.
Do Restylane® Kysse™ Injections Hurt?
No. Restylane® Kysse™ is formulated to include Lidocaine, a powerful anesthetic. The first injection may feel like a slight pinch but after the numbing agent is beneath the skin, subsequent injections are less sensitive.
Side Effects Of Restylane® Kysse™
Patients can typically return to their day as usual after Restylane® Kysse™ treatment. Some may notice mild swelling or bruising at the injection site. These normally resolve very quickly.
Schedule A Consultation
If you are interested in learning more about this new filler option, contact our office today by calling 212.288.0060 to schedule your appointment.