What Is A Non- Surgical Nose Job
A non-surgical nose job is an in-office procedure performed by Dr. Sobel in which injectable fillers are used to alter and shape a person's nose without invasive surgery. This can be done with either temporary fillers like Restylane and Juvederm or with permanent Silikon 1000.
The nose is one of the most important facial landmarks. Within minutes a small amount of filler can enhance the nose, changing the face with none of the downtime or cost associated with having rhinoplasty surgery.
What To Expect With A Non- Surgical Nose Job
The procedure is quick and painless. We offer a topical numbing cream and most patients report only feeling a tiny little pinch. With surgery, a patient must endure risks associated with general anesthesia as well as months of swelling and bruising. This in-office procedure can have you in and out within minutes with no downtime!
Nose filler injections can produce a customized "surgery-like" results. That is why it is referred to as "liquid rhinoplasty."
Restoring Balance
"Liquid rhinoplasty" is achieved with the same safe, FDA-approved dermal fillers used to lift the cheeks, fill wrinkles, and plump lips. With this procedure Dr. Sobel can:
Straighten a bump at the bridge of the nose, by filling areas around the protrusion.
Make the nose appear smaller.
Lift a droopy tip of the nose.
Before & After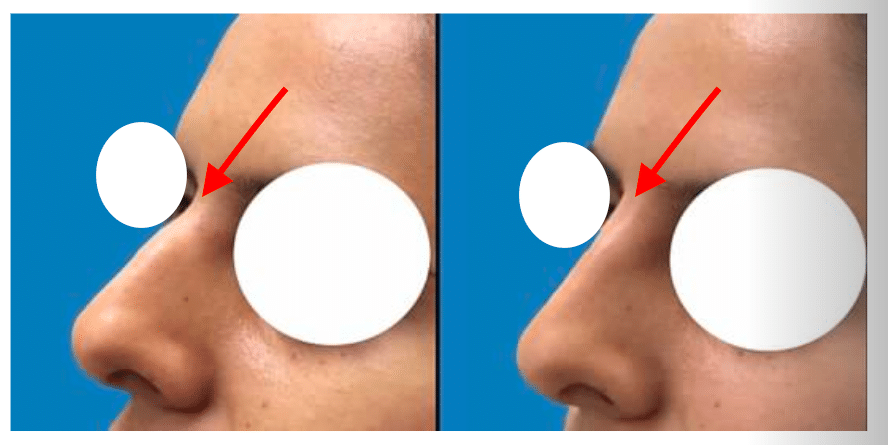 If you are seeking nose job treatment in NYC, our staff at Sobel Skin offers honest, human, forward-looking skin care to help you be your best, most refreshed self. Call 212.288.0060 fill out a form in the right-hand column of this page to book an initial treatment consultation with Dr. Sobel.