What Is A Non- Surgical Nose Job?
A non-surgical nose job is an in-office procedure performed by Dr. Sobel in which injectable fillers are used to alter and shape a person's nose without invasive surgery. This can be done with either temporary fillers like Restylane and Juvederm or with permanent Silikon 1000.
The nose is one of the most important facial landmarks. Within minutes a small amount of filler can enhance the nose, changing the face with none of the downtime or cost associated with having rhinoplasty surgery.
Before & After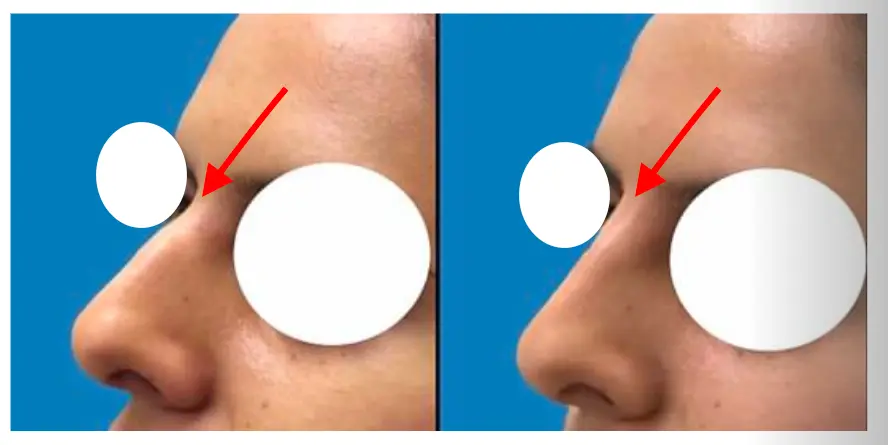 Restoring Balance
"Liquid rhinoplasty" is achieved with the same safe, FDA-approved dermal fillers used to lift the cheeks, fill wrinkles, and plump lips. With this procedure Dr. Sobel can:
Straighten a bump at the bridge of the nose, by filling areas around the protrusion.
Make the nose appear smaller.
Lift a droopy tip of the nose.
What is the difference between a non surgical nose job and a traditional rhinoplasty?
A lot! The nonsurgical nose job is an office procedure that takes 15 to 30 minutes from start to finish. The results of the injectable procedure are immediate and there is no downtime and relatively few risks of side effects. Using dermal fillers, the doctor avoids making incisions and there is no need for anesthesia. That said, because dermal fillers only change the shape of the exterior of the nose, this treatment does not improve breathing. Its capabilities are limited to correcting bumps and lumps and improving shape and size. The results of the nonsurgical approach can last up to 24 months before a touch-up is needed. Surgical rhinoplasty requires a few weeks of downtime and can take an entire year to fully settle. However, the results of the surgical approach are permanent.
Are there any risks to a non-surgical nose job?
The most common side effects associated with the liquid nose job are swelling and bruising. To reduce the risks of major complications, such as damming an artery or vessel that delivers vital, oxygen-rich blood to the skin and underlying tissues, patients should receive their nonsurgical nose job from a board-certified physician.
How can I prepare for a Nonsurgical Nose Job?
To prevent excessive bruising, patients are advised to avoid taking blood-thinning substances for at least 48 hours before their appointment. If there are questions about which products qualify as blood-thinning substances, contact our office well before the day of treatment. Patients should not stop taking prescription medications without their doctor's approval. The day before a nonsurgical nose job, patients should not use retinol or other potentially irritating skincare products. Ideally, patients will arrive at their appointment without makeup and with cleansed skin.
What To Expect With A Non- Surgical Nose Job
The procedure is quick and painless. We offer a topical numbing cream and most patients report only feeling a tiny little pinch. With surgery, a patient must endure risks associated with general anesthesia as well as months of swelling and bruising. This in-office procedure can have you in and out within minutes with no downtime!
Nose filler injections can produce a customized "surgery-like" results. That is why it is referred to as "liquid rhinoplasty."
What can you not do after a non-surgical nose job?
For the best results, patients may be advised to avoid a few things for 24 to 48 hours after their nonsurgical nose reshaping treatment. These include:
Applying makeup or topical products to the nose and surrounding skin.
Strenuous exercise that elevates heart rate and blood pressure.
Sun exposure and excessive heat from saunas, hot yoga, or other therapies.
Blood-thinning medication including aspirin and ibuprofen, which can worsen swelling and bruising.
Massaging or pressing on the nose.
Wearing glasses.
See What Our Patients Are Saying…
"Dr Sobel is the greatest. He is so taleneted and has an artistic eye to really get phenominal results. I had him help me with fillers for the nose to give it more hight at the bridge. It can be very scary because the filler is permanent. I put all my trust in him and his talent came through. I am going to have additional work done on neck and would fully say that he is the best in NYC. Keep up the good work Peter Block" – P.B.
How painful is a non-surgical nose job?
This treatment is designed to work quickly with minimal, if any, discomfort. Dr. Sobel uses a very small needle to inject dermal fillers just beneath the skin. He may apply a topical numbing gel or cream ahead of time to desensitize the treatment area. However, even without this step, patients find the nonsurgical nose job easily tolerable.
How long does a non-surgical nose job take to settle?
While there is no downtime needed to recover from a nonsurgical nose job, patients may experience some swelling. It can take up to two weeks for the swelling to completely resolve and for the dermal filler to settle into place.
Call Sobel Skin For a Non-Surgical Rhinoplasty in NYC!
If you are seeking nose job treatment in NYC, our staff at Sobel Skin offers honest, human, forward-looking skin care to help you be your best, most refreshed self. Call 212.288.0060 fill out a form in the right-hand column of this page to book an initial treatment consultation with Dr. Sobel.