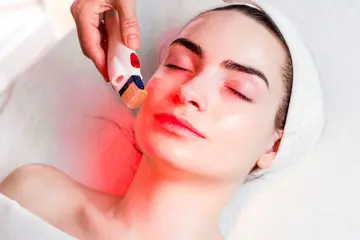 Microneedling is a professional treatment that has become increasingly popular in recent years as more people are looking to avoid plastic surgery. This is a form of collagen induction therapy that is much different than the dermal rolling (or dermarolling) that one may come across on internet websites. Unlike dermal rolling, microneeding is performed with an automated device. Its needles can penetrate the deeper layers of the skin without tearing or causing unnecessary tissue trauma. Because deeper penetration is achieved, the procedure is performed with a topical anesthetic.
Why Do This?
Why would one want to have needles poked into their skin? First, we have to say that the treatment sounds much worse than it is. With the use of numbing cream, the tiny, hair-like needles are hardly felt. Then, we have to say it's all about tissue regeneration. As we mentioned in a recent post, the fibroblasts that produce collagen and other vital fibers go dormant before we reach our forties. These cells must be stimulated on an ongoing basis to manage the signs of aging.
Microneedling treatment creates tiny channels in the skin. These micro-injuries are so subtle that they seal before the patient returns home from our office. However, because they were made, the body is prompted to heal. The repair process involves the production of healthy new collagen and elastin. To maximize this process, our provider applies special serum or cream such as vitamin C, hyaluronic acid, or skin lightening ingredients. Because microneedling disrupts the outermost layer of cellular debris, it primes the skin for absorption.
About Comfort
The microneedling procedure may last approximately one hour. Patients do not feel "needle-sticks" as much as they feel a sandpaper-like sensation. This is because the handheld device is powered by a high-speed motor that causes needles to vibrate vertically. Depending on the amount of fat there is in a given area, sensation may be lighter or stronger. For example, patients may have very little sensation on the cheeks but may feel the applicator more intensely across the forehead.
Microneedling is appropriate for all skin types and tones because it does not utilize chemicals or heat. Common treatment areas include the face, neck, décolletage, arms, and hands. In addition to subtly firming the skin on these areas, microneedling can decrease the appearance of hyperpigmentation, acne scars, fine lines, and stretch marks.
Our goal is to help our patients look and feel their best. To learn more about microneedling, schedule a visit to our NYC office at 212.288.0060.