Introducing The Lifestyle Palette Membership
I'm sure like most of us you've been invited to many June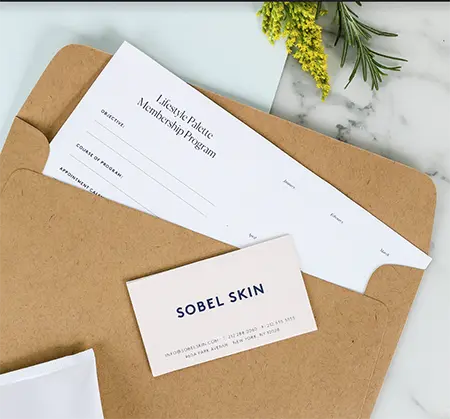 events this season. Whether it be a wedding, graduation or high school reunion, many of our patients have rushed in for some quick fix solutions to look their absolute best for that special occasion. While we do offer many treatments, like our popular Hydrafacial or the Clear + Brilliant laser, and a variety of cosmetic injectables, that show an immediate more refreshed, youthful look and radiant glow — some more significant enhancements do require a little more advanced planning. This may often involve the combination of a couple of different procedures and require a longer timeframe. In order to help patients achieve their desired results, we have developed The Lifestyle Palette Membership. The program is not only individually created, but offers patients valuable savings.
The Lifestyle Palette Membership
Every visit to Sobel Skin will consist of an elevated experience, focused attention, and honest advice. Beyond that, we can't predict the program and regimen that we develop with you. Because skin is personal, and naturally every patient's unique concerns and specific goals will vary — as will the Lifestyle Palette Program that Dr. Sobel and our staff will design.
Whether you want short-term solutions, to prepare ahead for a special event, or a fully customized yearly plan – we know which products work better with what skin types, and the injectables that pair best with certain lasers. All designed to meet your specific cosmetic goals.
Getting to Know You and Your Goals
The first step to developing a personalized program is having a conversation. We'll talk through lifestyle, past procedures, medical history, and weekend plans. The more complete picture we have of you and your life, the better we'll be able to create a plan that achieves your goals, for today and tomorrow. We will also consider the exact nature and timeline of any event that you are gearing up for. Planning ahead is the sure way to turn those heads as you enter the room on your big day!
Your Customized Lifestyle Palette Membership Kit
Following your consultation with Dr. Howard Sobel, you'll have a regimen that is structured around your goals and life calendar — all outline in your attractive, customized kit. Beyond specific in-office treatments and frequency, we will also map out day-to-day lifestyle and product recommendations. Everything is connected (and impacts our skin). We want to give you all the tools and tips you need.
Valuable Lifestyle Palette Membership Benefits
The kit will also include your Lifestyle Palette Membership Card that will indicate your membership savings. You will also have priority access to any events that we hold at our newly renovated Park Avenue location. And, as always, Dr. Sobel and our highly-trained medical staff are always available to answer any questions or address any concerns that you may have.
Call us today at 212-288-0060. We look forward to discussing your cosmetic goals, scheduling a consultation and helping you develop your personal Lifestyle Palette Program.