Actually, our results are pretty amazing! Did you ever have Microdermabrasion in the past, loved the results, but wished the super-turbo version existed? Well, welcome to Microneedling. This minimally invasive skin improvement procedure enhances your skin by reducing acne scars, hyper-pigmentation, stretch marks, fine lines, and wrinkles, and is performed right in our office. And, we don't just save face! This technology is very versatile and can be used to improve skin appearance on many parts of the body — including the neck, décolletage, hands, and arms.
What is involved in a Microneedling procedure?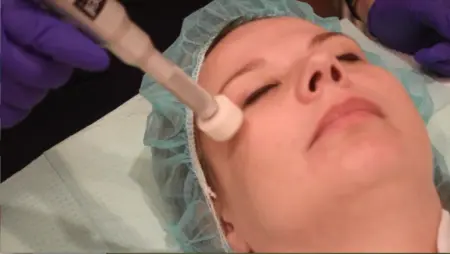 Our Microneedling, also known as Collagen Induction Therapy, begins with applying a soothing serum, containing hyaluronic acid, all over the skin. Once the process begins, the goal is to have the serum penetrate much deeper into the dermis, than with an ordinary topical application. This, combined with the stimulation of natural collagen production from the actual procedure, is what produces smoother, healthier and more radiant skin. The procedure then involves using a mechanized device called a Derma Pen, with several tiny needless on its head, applied all over the treated area. We carefully and precisely control the depth, frequency, spacing and pattern of these needle pricks, while making thousands of tiny needle punctures in the outermost layers of the skin — focusing on areas that need it the most. In a way, these micro punctures almost trick the body into thinking it was wounded, and sends the message to created more collagen in the area affected. We then reapply the serum to seal in the treatment, and for the extra benefit of additional penetration to produce maximum results. The entire procedure takes any where from 30-45 minutes.
Does Microneedling Hurt?
We take many precautions at Sobel Skin to ensure that our patients have a painless experience. We have patients arrive early and apply generous amounts of numbing cream to the area being treated, and do not begin until it has adequately taken effect. For patients reporting low pain tolerance or high anxiety concerning medical procedures, we now offer PRO-NOX™ — a patient-controlled, inhaled Analgesia. This gas system is designed to deliver a 50% oxygen and 50% nitrous oxide mixture. Patients describe it as similar to receiving gas at the dentist, and enjoy a pain-free, anxiety-free treatment.
Is there any downtime?
There is no downtime after this procedure. Though the skin may be slightly red or blotchy in spots, many of our patients come during lunchtime and return to work immediately afterwards.
In general, our patients have been thrilled with Microneedling, and some have reported that these lasting results have "literally turned back the clock!"
Call us today at 212-288-0060 to discuss your cosmetic goals, schedule an appointment or for more information to determine if Microneedling is right for you.