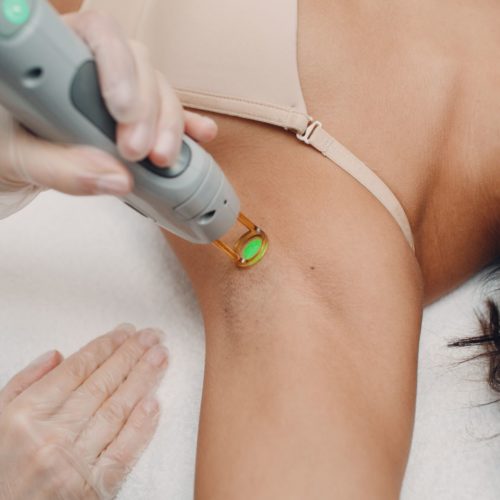 Unwanted hair is a nuisance, and we are beyond that in this day and age. With so many things to do in a day, who wants to spend time shaving and plucking? If you have better things to do than groom away unwanted hair, then you need to know what laser hair removal can do for you. Not only will having smooth, soft skin free up your time but it will also help you avoid uncomfortable razor burn and ingrown hairs caused by shaving and other techniques. Here, we cover all the aspects of laser hair removal that you need to know to feel confident moving forward with this process.
Before Laser Hair Removal
Laser hair removal is a convenient treatment with few instructions. The process relies on the contrast between the color of your hair and the tone of your skin. If you're tan, either by the sunlight or a tanning bed, your process may be longer or less effective. Before laser hair removal, one of the first things you want to do is start minimizing sun exposure on the treatment area.
To be fully prepared for laser hair removal, it is also advantageous to shave shortly before your appointment. This can be done the day of or the night before your treatment. Shaving shortens the length of hairs, which decreases the amount of heat that gets absorbed in hair follicles. Don't worry, a sufficient amount of heat will reach the intended target and will do so much more comfortably than if your hair is longer.
On the day of laser hair removal, it is best to wear loose, soft clothing that will let your skin breathe after your treatment. The skin may feel warm. Letting it release heat can decrease sensitivity and other side effects.
Laser Hair Removal Treatment
For your laser hair removal treatment, you will sit or lie on a comfortable table. You will probably remove some items of clothing. Your provider may use a sheet to cover you if necessary. Goggles will be worn to protect your eyes from the laser light. Treatment is performed using a small handpiece that "stamps" the skin, treating numerous follicles at one time. Warmth may be felt as the treatment progresses. Larger areas can take up to an hour.
After Laser Hair Removal
The most common side effects of laser hair removal are redness, swelling, and a sunburned sensation. These may last up to a few days but typically do not prevent patients from normal activities. If your skin feels hot or uncomfortable, cool compresses can be applied to soothe side effects.
Laser hair removal is safe, effective, and convenient. To schedule your visit to our NYC office, call 212.288.0060.