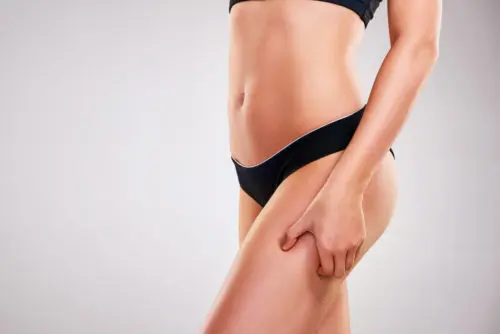 If cellulite is a persistent problem you've been trying to eliminate with diet and exercise, you're certainly not alone. Many women have cellulite. The problem is not reserved for a certain age or weight bracket. It has relatively little to do with actual weight and is primarily caused by the natural subcutaneous fat that lives beneath the skin. If you have cellulite, you're probably not looking for a comprehensive explanation of why. What you're looking for is a solution. You've already discovered that your lifestyle has little effect on those dimples. Now you can explore the professional treatments that have been developed to put an end to cellulite. In our NYC office, we turn to EMTONE.
What is EMTONE?
EMTONE is the first cellulite treatment of its kind. Other technologies have tried to beat this problem by tightening the skin. Some have tried to beat cellulite by undergoing liposuction (which may worsen the problem). EMTONE doesn't work by merely tightening the skin, nor does it only reduce excess fatty tissue. It does both! By combining powerful energetic and mechanical modalities, EMTONE achieves outstanding improvements. In clinical trials, this device achieved:
Visible cellulite reduction in 93% of patients

Measurable improvement in tissue elasticity in 91% of patients

Over 90% patient satisfaction

Visible improvement in skin tightness in 86% of patients

2.2 cm reduction in thigh circumference

1.43 cm reduction in waist circumference
EMTONE is often performed on the thigh and waist areas but is designed to treat any area in which cellulite is common, such as the:
Abdomen

Love handles

Buttocks

Banana roll beneath the buttocks

Arms

Knees
How it Works
Each EMTONE treatment targets problematic skin and fatty tissue with monopolar radiofrequency and acoustic waves. The monopolar radiofrequency energy emitted warms tissue to about 110 degrees Fahrenheit. Simultaneously, acoustic waves "massage" tissue. This stimulates circulation, a reduction in the size of the fat chambers in subcutaneous tissue, the loosening of the collagen fibers that pull the skin inward, and a reduction of metabolic waste beneath the skin. Results from treatment may start to appear as soon as two weeks after EMTONE. They continue to improve for several weeks. Patients may need a series of treatments to achieve their desired improvement.
See what EMTONE can do for you. Call our NYC office at 212.288.0060.