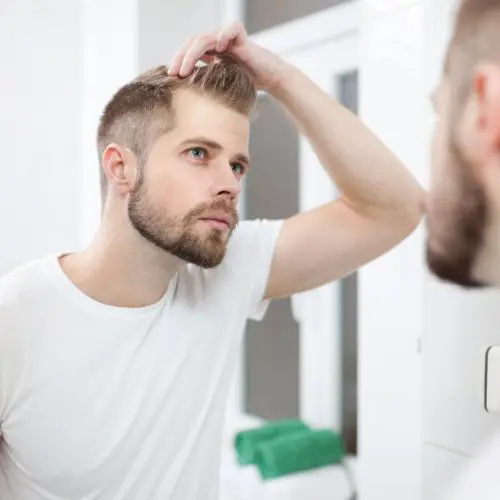 Statistics demonstrate that millions of men and women in our country are experiencing hair loss. We know from studies that more than half of men over the age of 50 will face some degree of hair loss. Women are not immune, either, with nearly 30 million reporting female-patter hair loss. Historically, this problem was seen more or less as a natural consequence of aging. Today, we know the factors that contribute to hair loss and also how those factors may be addressed. In our NYC office, we use platelet-rich plasma to help patients who want to stimulate improved hair growth. Here, we discuss how this treatment works and what it may offer you.
Platelet-rich plasma (PRP) has been a common form of therapy in regenerative medicine and orthopedics for several years now. The process involves a basic blood draw from the arm, after which the blood is processed in a centrifuge. This machine spins at high-speed, causing the platelets and plasma to separate from red blood cells.
The reason doctors have increasingly used platelet-rich plasma is that this substance carries numerous growth factors and proteins that stimulate the production of proteins and chemicals that are vital to tissue healing. In studies of PRP, researchers discovered that this substance could prolong the active phase of hair growth, potentially reversing the visible effects of hair loss in many patients. To treat hair loss, PRP is injected into the scalp. Treatments are spaced approximately 4 weeks apart and continue for approximately 3 months. After that time, additional PRP injections may be scheduled a few times a year to continually stimulate hair follicles to remain active.
Promising Results
A study conducted in India in 2014 observed patients with male-pattern baldness who had used prescribed medications to treat hair loss. With medications alone, little change was reported. These same men then received 4 PRP treatments, after which researchers measured improvement of approximately 30 percent. Additional studies indicate that, about three months after PRP injections into the scalp, most patients (male and female) see 30 to 40 percent improvement in hair growth and density.
Platelet-rich plasma offers a viable solution for many people experiencing hair loss. To learn more about this treatment and what it can do for you, call 212.288.0060.